New Nucleus Facility Dares to Dream and Delivers
In building your ideal nucleus barn, is it most important to have the best biosecurity, technology, R&D or nutrition? Those behind the new Bon Accord nucleus facility in Ituna, Saskatchewan couldn't decide, so there was only one solution: have it all. The farrow-to-finish operation with 1200 GGP sows may seem to be in the middle of nowhere, but its ability to excel on several fronts has placed it squarely in the industry spotlight.
As any pork producer knows, it's a highly competitive business, so a high-tech mentality is critical for success. The Hypor-owned Bon Accord farm committed early on to the latest and greatest equipment, from Electronic Sow Feeding to automated heat detection. By using only cutting edge technology, the facility supports Hypor's focus on continuous improvement and delivering the best product, performance and profit for its clients.
To the layperson they're just letters, but for pork producers, they can spell disaster: PRRS; PEDv; ASF. Preserving the high health status of their herds is critical for Hypor and its clients, which explains the rigorous biosecurity standards and procedures at Bon Accord. These efforts are largely centered on pig transport as it represents the greatest threat for disease transmission. Whether it's the "no contact" policy when loading and unloading animals, the mandatory washing and disinfecting of trucks coming on farm, or the requirement that feed companies assign dedicated trucks exclusively to Bon Accord, everything is done with prevention in mind.
In any discussion of profitability, feed costs are top of mind, so they're also a top priority at the new facility. The problem is how to minimize feed expense without hampering production, and Hypor's employees and equipment at Bon Accord are working hard on a solution. Through extensive automation, the facility closely monitors and controls feed intake and frequency, feeding behavior and the weight of the sow in gestation. In turn, the data collected helps drive progress on feed efficiency and growth, two pillars of Hypor's genetic program that have a major impact on your balance sheet.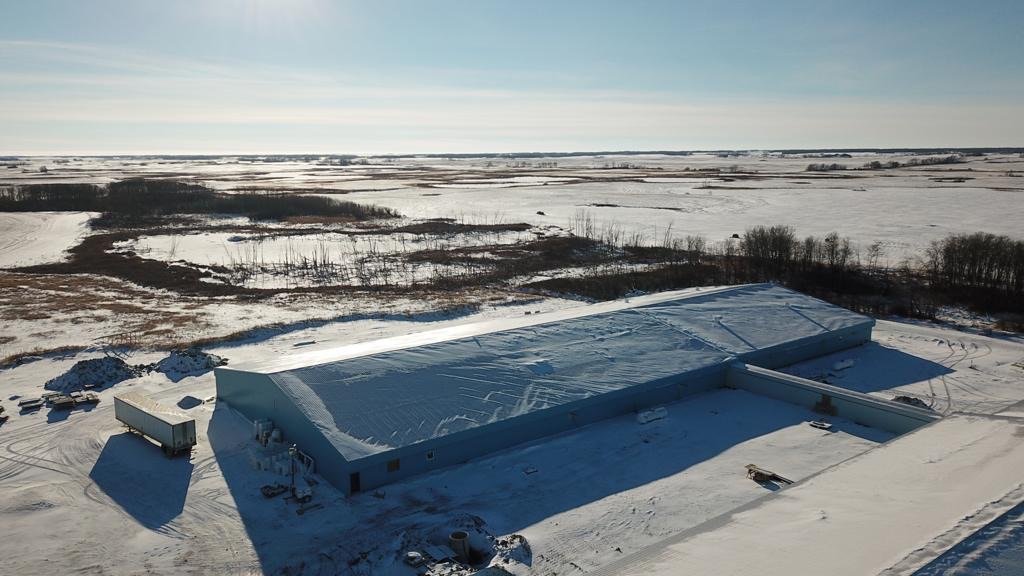 The key to staying competitive is continous progress, and that progress hinges on exceptional research and development. Like Hypor itself, the Bon Accord operation seeks to make significant gains today while always having one eye on tomorrow,and this dual focus is visible at every turn.
Because group housing is the way of the future, Bon Accord uses group housing exclusively and prioritizes traits critical to that environment like behavior, feet/leg structure and walking ability. Since diversity – which requires a large population size - is essential to genetic improvement, the facility places a premium on diversity by working with a nucleus breeding population of 1200 sows.
Total System Profitability
Feeding the world is a noble pursuit, but one that can only be sustained through profitability. With that in mind, Bon Accord's design, technology and priorities reflect a commitment to supporting producers on a number of fronts. Both the quantity of its herd and the quality of its equipment allow the farm to capture more data and help customers select the best animals. The barn's configuration supports the breeding of sows that can excel in a group housing system, leaving Hypor and their customers well positioned to keep pace with a global trend.
As important as Bon Accord may be for what it does and what it offers, the operation is also significant for what it says about the company as a whole. Hypor's customer base is expanding, and this initiative is part of an aggressive campaign to meet the growing needs of that base.
On March 11, the first sows were housed in the new location. Just as recent renovations of nucleus facilities in France were an endorsement of that market's potential, Bon Accord represents a massive investment and a belief in the strength and promise of the industry in North America.
As this rebuilding initiative is completed, Hypor turns its attention to similar projects in Spain and the United States, as well as a second undertaking in Canada. Collectively, these efforts form the foundation of Hypor's Vision 2020 program and its commitment to a comprehensive overhaul of the company's nucleus capacity.
So maybe you can't have it all in life, but if you can get the finest technology, biosecurity, nutrition and R & D under one roof, surely that's the next best thing.