When Others Step Back, the Magnus Steps Up
Whether you're talking sports or pork, what sets a champion apart is the ability to meet adversity head-on without missing a beat. If there was a gold medal for sire lines who "thrive in the face of hardship", the Hypor Magnus would win it every time. 
Known for its unmatched adaptability, the Hypor Magnus maintains performance in even the most challenging situations, so even when disease hits your barn, it won't be lethal for your bottom line.
Adaptability is about getting up and carrying on when times are tough. Pigs must be able to grow in all sorts of conditions. In this industry, if you're not moving forward, you're falling behind.
Whether you call it hardiness, resolve or resilience, the Hypor Magnus has "it". Faced with a health challenge, the Hypor Magnus continues to eat, drink and do what is needed to survive. With sire lines lacking that quality, death loss – and the financial loss that accompanies it – can be a real issue for producers. The ability to fight through disease is critical to your operation, and it's a quality that distinguishes the Hypor Magnus from the competition.
"Even in the midst of a disease challenge, our pigs continue to grow and outperform other animals in the same situation," says Meyer. "Our trials have shown that under those conditions, the Hypor Magnus is able to maintain an average daily gain that is similar to trials where no health challenge occurred, and that's impressive by anyone's standards." (See Figure 1)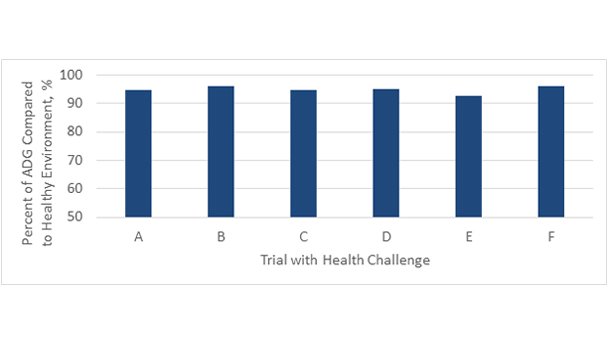 As part of their inherent make up, pigs want to grow. Once the restrictions of a health issue have been lifted, pigs will experience compensatory gain, but only if they make it that far. Thanks to its strong desire to thrive, the Hypor Magnus allows producers the chance to medicate their animals, see them through the disease phase and watch them get right back on track once the challenge has run its course.
Total System Profitability
Just as resilience in the face of disease is vital for pig survival, Total System Profitability (TSP) is essential to maintaining your operation. In part, that's why the Hypor Magnus perfectly embodies our commitment to TSP for all clients.
One of the biggest profit robbers in production systems is mortality or failure to thrive. Having pigs that can survive challenges and keep eating and growing so they make it to market has a lot of value from a total system perspective. Quite simply, a pig that lives is potential profit, and one that doesn't is a loss you will never recover.
As any producer knows, getting pigs to slaughter is the difference between making money and losing money. Yet while death loss remains an issue in many areas of the globe, consumers are pushing for more oversight on antibiotics in livestock production, and the list of what producers and vets can employ to treat their animals continues to shrink. Consequently, the pork industry must find a way to do more with less. That means we need pigs who can tackle disease problems with little or no help, and no sire line does that better than the Hypor Magnus.
"The challenge for us as a company is to offer pigs that will continue to grow in the absence of antibiotics," says Meyer. "I foresee many of the disease solutions we use today becoming off limits in the future as consumers – rightly or wrongly – believe they shouldn't be available. There are already many countries where antibiotic use has all but disappeared."
With antibiotic restrictions mounting in North America as well, the time is now for a sire line that thrives. Whereas some pigs are born weak and are disadvantaged right from the start, the Hypor Magnus gets up, gets moving and never really slows down regardless of the obstacles. In doing so, it lowers your cost of production without cutting performance, and that's what TSP is all about.
While Hypor continues to work on critical traits like feed conversion, average daily gain and intramuscular fat, the ability to fight through disease and emerge stronger than ever is vital to giving producers the full benefit of those traits. By demonstrating that ability, the Hypor Magnus offers a competitive edge to our company and our clients. Though the Hypor Magnus can't win an Olympic medal, its unmatched adaptability in challenging conditions could be worth its weight in gold to your business.