Hypor Libra* 2019 Global Productivity Benchmark
What characteristics do you look for in a sow? Is the ability to easily farrow, raise, and wean a litter of high quality pigs important to you? Do you want to have a sow that can stay in the herd for many parities, with minimal non-reproductive sow days? What if you could have all of these characteristics in the same sow? Let us introduce you to the Hypor Libra*.
The Hypor Libra* is the most efficient sow and she gives you the highest quality piglets that easily become valuable finishers. The balance between the sow's prolificacy and reproductive efficiency, results in a commercial sow that produces and weans a high number of uniform piglets per year. All without compromising her ability to produce the next litter. Hypor is setting the standard in sustainable swine breeding by providing a sow with efficient lifetime productivity of quality offspring.

Litter Characteristics: Past, Present, and Future
The yearly global Hypor Libra* benchmark gives us the opportunity to track past and present performance around the world to better evaluate where we want to be in the future. The solid lines represent our history and the dotted lines represent where our breeding objectives will take us:
Our breeding objectives for litter characteristics are clear:
Hypor delivers what we promise to our customers
Don't Forget About Reproductive Efficiency!
There is more to farm productivity than just individual litter characteristics. Yearly productivity and survivability of the sows are also part of the equation to deliver a commercial female that excels in reproductive efficiency, litter after litter.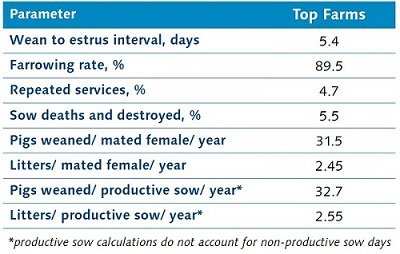 The focus on reproductive efficiency is clear:
Fewer returns, shorter wean to estrus interval, lower sow mortality
Higher farrowing rate and number of litters/sow/year
All these parameters influence pigs weaned/sow/year and set us apart from the industry average
Hypor is setting the standard for sustainable swine breeding and with the 2019 global Hypor Libra* productivity benchmark, it is clear that our breeding program is delivering an efficient sow who can produce many high quality piglets throughout her lifetime. In turn, these piglets become valuable finishers.